Volunteering
Volunteering
Australia Zoo Volunteers are a diverse mix of people who all share passion and enthusiasm for wildlife and conservation. Our volunteers play an important role within the zoo, providing valuable support to our keepers and guests.
Become a Volunteer
Every year hundreds of people, from high school age to retirement, take time out of their busy lives to volunteer at Australia Zoo.  Some are local residents, while others have travelled from interstate or even internationally.
All are motivated individuals who share a common goal and desire to help Australia Zoo meet our commitment of conserving and protecting wildlife and wild places. Their dedication ensures Australia Zoo delivers the greatest level of care to the animals that call Australia Zoo home and assists in delivering the high standards of customer service Australia Zoo is renowned for.
Not only is volunteering a fun and exciting way to spend your free time, you'll also learn new skills and gain a thorough understanding of what it's really like to be part of the tourism and animal industries.
If you are enthusiastic, passionate, reliable, friendly, interested in conservation, and enjoy working outdoors, you may be just what we are looking for!
If you would like further information, you are welcome to download our Volunteer Application Pack here.
Our volunteer program options include:
Animal Keeping
Guest Experience
High School Work Experience
Wildlife Hospital Keeping
Following review of this information pack, if you would like to apply, simply complete all sections of the online Australia Zoo Volunteer Program Application form. An I.D. photo, your current resume with references and proof of identification and vaccinations are required for this application. – Online Volunteer Application
Animal Keeping Volunteers
Our animal keeping volunteers assist with a variety of different husbandry and customer service tasks, including, but not limited to:
Habitat cleaning and maintenance – raking, scrubbing, sweeping, mulching, weeding, cob webbing, cleaning ponds, gardening, etc.
Assisting with food preparation for a variety of species
Preparing and assisting with animal enrichment for a variety of species
Animal observations and monitoring
Interacting with zoo guests
Assisting keepers and gaining an understanding of a zoo keeper's role
Guest Experience Volunteers

As a guest experience volunteer, you may find yourself:
Welcoming our visitors at the front entrance and assisting them with planning their day
Getting our guests into the Australia Zoo spirit and answering any questions they may have
Helping visitors locate our shows and facilities
Assisting with guided tours
Being on hand in some of our open habitats to help guests when needed
Providing assistance at our regular promotional events and family activities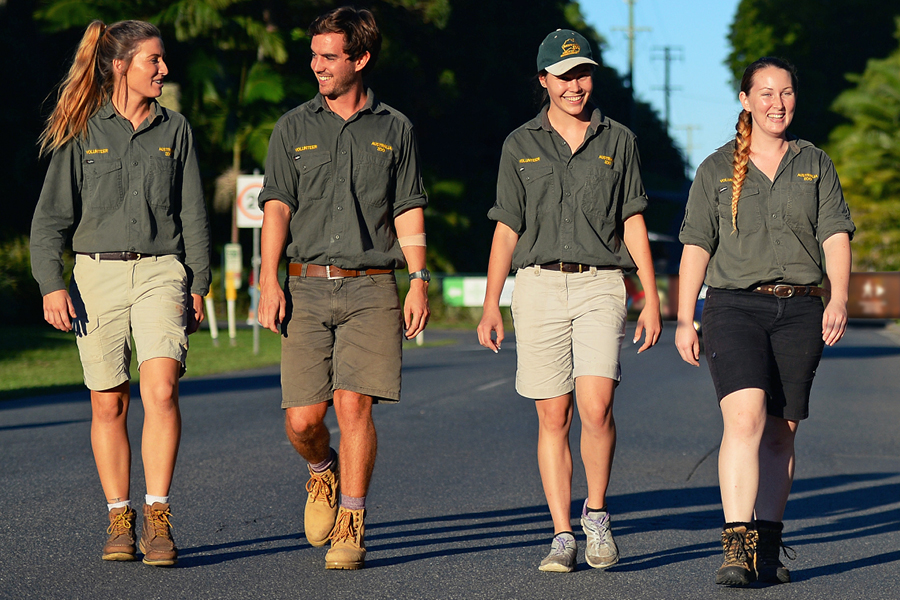 Australia Zoo's High School Programs
We aim to provide engaging and enjoyable opportunities for school students seeking experience within a structured tourism and zoological based environment.
Our Introduction to Zoo Keeping program is suitable for students aged between 14-17 years of age. The program introduces participants to animal care requirements and considerations in a zoological facility, within a supported and structured environment.
Learn More
Australia Zoo Wildlife Hospital
The Australia Zoo Wildlife Hospital (AZWH) is one of the largest and busiest of its kind in the world and has treated over 100,000 animals since it first opened its doors in 2004.
Volunteers are an important part of our AZWH team and work alongside our experienced keepers, primarily in our koala wards, to assist them with their daily cleaning, maintenance and food preparation duties. Everything our volunteers do helps our hospital operate to the highest standard possible and ensures every animal admitted to the hospital receives the care they deserve.
Volunteer activities at the AZWH relate primarily to husbandry:
Enclosure cleaning and maintenance
Assisting with koala husbandry and leaf replacement 
General grounds maintenance
Some inside duties including laundry, kitchen duties, etc.
Please be advised that volunteers will not have any direct physical contact nor clinical medical interaction with our patients due to strict safety guidelines (as all of our patients are wild). Volunteer opportunities and roles will be discussed further at your interview.
So if you're 18 years of age or older, passionate, confident and hardworking, volunteering with us at the Australia Zoo wildlife Hospital may be for you!
For more information or if you would like to contribute to the Australia Zoo Wildlife Hospital, visit www.wildlifewarriors.org.au